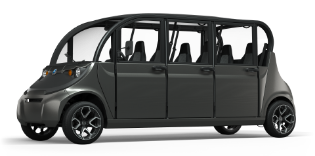 The GEM e6 is the Future of Electric Shuttles.
With enhanced safety and comfortable seating for six, the GEM e6 is in an EV shuttle class of its own.
Premier Upholstery
Individual bucket seats with high backs are ergonomic for ultimate comfort. A new seat pattern is highlighted by three high-end vegan leather fabrics to introduce appealing textures that elevate the style of the seat. The seats are offered in three new color options to add to the customization of each GEM. The weather-resistant, luxe seats can be covered in Beechwood Tan, Avalanche Gray and Black or Beachwood Tan and Black color combinations.
Rockford Fosgate Audio
The Rockford Fosgate audio system provides superior sound quality. The Element ReadyTM speakers are IPX6 rated meaning they are built to withstand salt, water, dust and UV—all while delivering outdoor audio without needing an amplifier. Passengers experience high-performing surround sound with two speakers in front and two in back. Controlled by an in-dash tuner that is Bluetooth and audio-in compatible, these speakers are built to broadcast audio from your device, or use the built-in AM/FM tuner for the radio.
Interior Feature Lighting
LED feature lighting adds lights under the dash and beneath the seats to illuminate the floor of your GEM. The configurable lights can easily be switched between a brilliant blue ambient light, or a true white task light.
Up to 67 mi
Between Charges*
*GEM model, battery, payload and terrain will impact range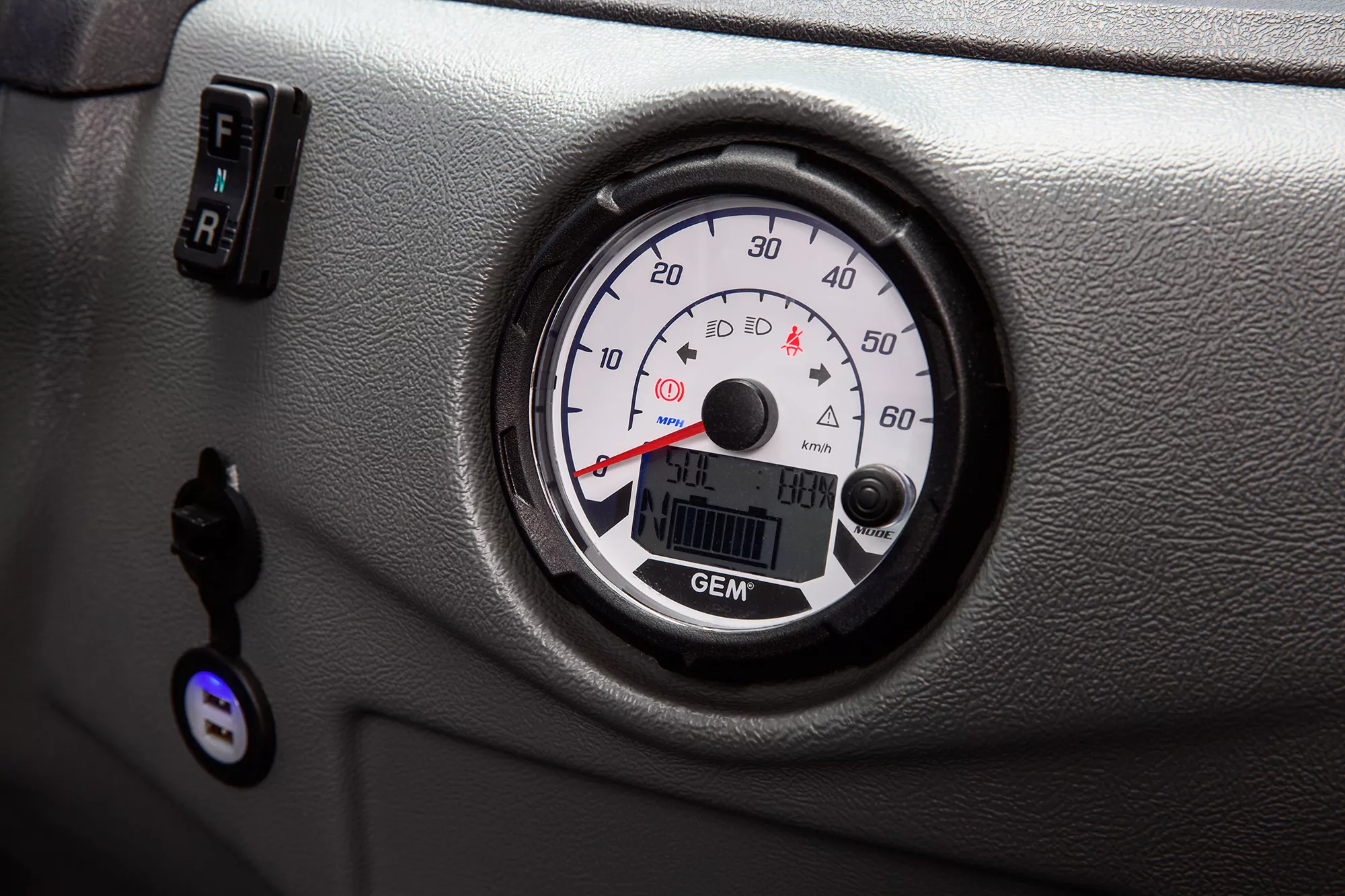 Safe
GEM vehicles are street-legal on roads up to 35 mph in most states.
Ensure street-legal security on the road with three-point seat belts.
Travel roads confidently with street tires and an automotive glass windshield that offers protection from the elements.
Alert other drivers of your next move with LED brake lights and turn signals.
Regenerative braking, back-up warning signals and an integrated back-up camera all come standard.
GEM vehicles feature an Occupant Protection System (OPS) that is roof crush certified to SAE J2358 Standards.
GEM vehicles have safety features that are approved by the US Department of Transportation.
Comfortable
Adjustable front bucket seats give passengers a personalized feeling of comfort.
Experience a smooth ride on all kinds of terrain with almost 6″ of suspension travel.
Seat a 6'8″ passenger comfortably in the spacious cab with 43″ of available legroom.
Durable, non-slip flooring.
Make effortless turns with optional Electronic Power Steering.
Drive confidently with adjustable tilt steering that's easily adjusted to your preferences.
Adventure year-round by adding doors. GEM's door seal design and weather resistant seats are engineered for a weather-tight cab.